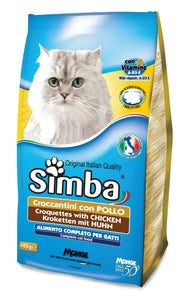 СИМБА ПИЛЕ МАЧКА
Шифра:
966
Croquettes with Chicken
Weight

:

 

400 g - 2 kg - 20 kg

Complete food for cats with vitamins A-D3-E that promote the health and well-being of the animal. Protein intake is guaranteed by the presence of chicken meat.







Cereals, meat and meat derivates (min. 5% chicken), oils and fats, vegetable origin sub-products, yeasts, mineral substances.
---
Препорачуваме