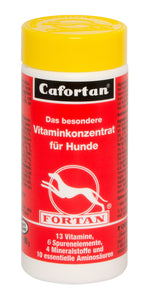 КАФОРТАН
Шифра:
2719
Cafortan
Product information "Cafortan"
Cafortan - solid foundation for dogs
Cafortan combines a wide range of highly effective ingredients, specially balanced to meet dogs' requirements.
Cafortan - provides a solid foundation for your dog's health and contains essential vitamins, minerals, trace elements and amino acids, as found in natural sources such as high-grade, special quality dried yeast, peptones, plants and haemoglobin.
Varied, needs-orientated and well-balanced food for dogs forms the basis for healthy growth, development, well-being and performance to a ripe old age. Dogs, in particular, originally meat and carrion eaters, have been bred away from their natural sources of food, mainly the meat and blood of freshly killed animals. It was these food sources that gave our pets' ancestors all the essential, biological substances they needed, which are not to be found today in the required quantities in even the most carefully selected fresh muscle tissue of hygienically slaughtered animals.
Todays dogs food is not enough
During industrial pet-food manufacture, many of these crucial, natural substances are destroyed - even in premium pet foods designed to be the sole source of nutrition. Deficiencies can then lead to low growth rate, low performance and poor breeding results. Even illness and irreparable wear in the dog's joints can be exacerbated or even triggered by inappropriate dogfood. This is why regular addition of selected nutrients, balanced to match the dog's age and needs, is highly recommended. In young dogs, the right food ensures healthy growth, strong bones and finely-tuned muscles. During training and other stress situations, such as shows, hunts, races etc. dogs require optimal care, such as that provided by Cafortan. Dogs requiring increased care and intakes of natural substances, such as pregnant and feeding animals, breeding dogs, ill or recuperating animals, should be given twice the normal daily amount. Similarly, older dogs, possibly suffering from an absolute deficiency in biological supplies to vital organs (age-related disturbed absorption). Calcium (4.49%) and phosphorous (2.20%) are present in quantities considered ideal for modern dogs, i.e. a ratio of 2:1, and are easily absorbed – a crucial factor – in other words, your dog will be able to absorb and convert these substances with ease. The small amount of fat included is a vegetable fat (e.g. high-grade lecithin). Protein is based on amino acids. Raw ash consists mainly of minerals and trace elements. Raw fibres are the key structural element in plants and act as vital roughage for the dog's digestive system.
Puppies, once they have been fed, receive one to four tablets per puppy per day, depending on the breed size. From the 12th week of life, puppies and young dogs receive 6 tablets per 5 kg body weight daily. Dogs that have a temporary increased need for biological agents (femal dogs during pregnancy and lactation, stud dogs, and sick and recovering dogs) should be given twice daily. The same applies to older dogs, which often have absolute deficiencies in the biological supply of organs (age-related absorption disorders
s soon as pups have been weaned, they should be given 1 to 4 tablets a day dissolved in warm water, depending on the size and breed, mixed with the normal daily mash. Pups aged 12 weeks and above and well-developed young dogs can be given the same dose as full-grown dogs of that breed.

Ingredients:
Yeasts, minerals, milk/dairy products, vegetable by products (as herbs), algae, seeds, haemoglobin, hydrolised collagen 

Guarenteed analysis:
Crude protein 33.3%, crude fat 4.0%, crude fibres 1.7%, crude ash 20.7%, calcium 4.49%, phosphorus 2.2%, potassium 2%, magnesium 1%.

Additives: nutritional additives per kg:
Vitamin A (3a672a) 200,000 IU, Vitamin B1 (3a821) 200 mg, Vitamin B2 200 mg, Vitamin B6/pyridoxine hydrochloride (3a831) 100 mg, Vitamin B12/cyanocobalamin 1,000 μg, Vitamin D3 (3a671) 10,000 IU, Vitamin E (3a700) 1,000 mg, Vitamin C (3a300) 1,000 mg, biotin (3a880) 6,000 mcg, Niacinamide (3a315) 1,200 mg, Cholin as choline chloride (3a890) 3,000 mg, Folic acid (3a316) 40 mg, Calcium-D-pantothenate (3a841) 500 mg, DL-methionine technically pure (3c301) 6,000 mg, 2,800 mg ferrous (3b103) as Iron(II) sulphate monohydrate, 12 mg iodine (3b202) as calcium iodate anhydrous, 75 mg copper (3b405) as copper(II) sulphate pentahydrate, 250 mg manganese (3b502) as manganese(II)oxide, 0.5 mg selenium (3b801) as sodium selenite, 242 mg Zinc as Zinc sulphate monohydrate (3b605), 58 mg Zinc (3b603) as Zinc oxide.

Regular, daily feeding recommendations:
- 5 kg = 3 tablets 
- 10 kg = 6 tablets
- 20 kg = 12 tablets
- 30 kg = 18 tablets
Optimum dose: 3 tablets per 5 kg of body weight.
1 tablet = 500 mg
Cafortan is a feed supplement for dogs.
---
Препорачуваме