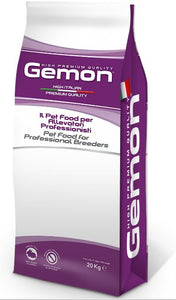 ГЕМОН ДОГ МАКСИ ПИЛЕ И ОРИЗ
Шифра:
8077
GEMON MAXI ADULT WITH CHICKEN AND RICE
GEMON HIGH PREMIUM QUALITY is a line of complete pet food formulated with top quality ingredients, specially selected to fulfil the nutritional needs of your pets, representing the result of Made in Italy research. The exceptional taste of the kibbles is due to the inclusion of fresh meat, which is a source of essential nutrients such as proteins, minerals and vitamins. GEMON products have been custom-studied for the different ages and lifestyles of your pet and without adding artificial dyes and preservatives. No cruelty test and made in Italy.
COMPOSITION: cereals (of which rice min. 5%), meats and meat by-products 22% (of which fresh chicken min. 10%), oils and fats, fish and fish by-product, by-products of vegetable origin (2% beet pulp), yeasts (1% brewer's yeast), minerals, chondroitin, glucosamine, chestnut extract, Yucca Schidigera, Choline Chloride, F.O.S. (Fructooligosaccharides) 1 g/kg, Vitamin E.
ANALYTICAL CONSTITUENTS: Crude protein24,00%, Crude oils and fats 12,00%, Crude fibre 2,50%, Crude ash 6,80%, Calcium 1,6%, Phosphorus 1,1%. NUTRITIONAL ADDITIVES/kg: Vitamin A (as Retinyl acetate) 17,000 I.U., Vitamin D3 (as Cholecalciferol) 1,150 I.U., Vitamin E (allrac-alpha tocopheryl acetate) 120 mg, Choline Chloride 2,500 mg. Manganous Sulphate Monohydrate 73 mg (Manganese 25 mg), Zinc Oxide 150 mg (Zinc 110 mg), Cupric Sulphate Pentahydrate 37 mg (Copper 10 mg/kg), Ferrous Sulphate Monohydrate 260 mg (Iron 80 mg), Sodium Selenite 0,35 mg (Selenium 0.15 mg) Calcium Iodate Anhydrous 2,00 mg (Iodine 1,24 mg). AMINOACIDS/kg: DL-methionine technically pure 2000 mg.
TECHNOLOGICAL ADDITIVES: MSM (Metilsulfonilmetano) 400 mg, Glucosamine 400mg, Chondroitin Sulfate 260 mg, TECHNOLOGICAL ADDITIVES: Antioxidants.
USE INSTRUCTIONS: The product may be fed wet or dry. We recommend using the daily rations as guidelines, and if using the product for the first time to introduce the new food gradually into the diet. Make sure clean drinking water is always available. Amounts may vary depending on the special needs of some dogs.
---
Препорачуваме