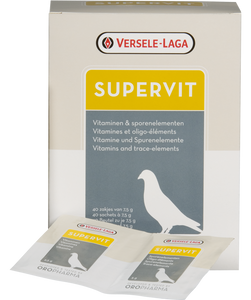 ВЕРСЕЛЕ ЛАГА СУПЕРВИТ
Шифра:
8471
SUPERVIT
Mixture of vitamins and trace elements in powder form
A blend of 10 vitamins and 4 trace elements in powder form. Supports the natural resistance and enhances performances.
Supports the natural resistance against disease
Ensures a better metabolism, which enhances the condition and performances
For an ideal growth during the breeding period
AVAILABLE IN
40 z/s (EAN5410340600986)
COMPOSITION
lactose, magnesium sulphate
ANALYTICAL CONSTITUENTS
crude protein 0%, crude fibre 0%, crude fat 0%, crude ash 4.7%, lysine 430 mg/kg, methionine 670mg/kg, sodium 0%
ADDITIVES/KG
NUTRITIONAL ADDITIVES
3a672a vitamin A 1000000 IU, 3a671 vitamin D3 300000 IU, 3a700 vitamin E 8000 mg, 3a821 vitamin B1 650 mg, 3a825ii vitamin B2 1900 mg, 3a841 calcium-D-pantothenate 5500 mg, 3a831 vitamin B6 1200 mg, vitamin B12 6 mg, 3a315 niacinamide 14400 mg, 3a316 folic acid 170 mg, 3b405 copper (cupric sulphate, pentahydrate) 1080 mg, 3b605 zinc (zinc sulphate, monohydrate) 8080 mg, 3b503 manganese (manganese sulphate, monohydrate) 8240 mg
TECHNOLOGICAL ADDITIVES
E310 propyl gallate 33 mg
DIRECTIONS FOR USE
2 double sachet per 2 litre of water (or per kg feed):
- Competition pigeons: once a week (preferably in the middle of the week)
- Breeding pigeons (from pairing): once a week
- Youngsters: once a week
- After treatment against illness (worms, trichomoniasis, coccidiosis, snot, paratyphus, paramyxovirus, etc.): 2 consecutive days (after treatment against the disease)
- During the moult: once a week
Freshen solution daily.
TIPS
Make a fresh solution every morning. May be given in combination with Oropharma B-Chol.
---
Препорачуваме